CADENCE SYSTEM DESIGN & ANALYSIS
Sigrity Unified Analysis Workbench
Complete electrical analysis platform built to help you solve all your SI, PI,  and EMC design challenges across the board 
Solve The Next Generation of Design Challenges with Sigrity
Designs are not getting simpler and delivery schedules aren't getting longer. If you hope to stay ahead of the competition, you must determine optimal design configurations, validate performance, and signoff on your critical interconnects well before you get to prototype . Sigrity provides the only complete analysis solution designed to solve todays multi-physics, multi-domain design challenges.
Guided, Workflow-Driven Analysis
Pre & Post Layout Insights
Hardware-Correlated Results
Analyze in Your Environment Seamlessly
Guided, Workflow-Driven Analysis
Guided, Workflow-Driven Analysis
Figuring out how to set up the simulation shouldn't take twice as long as the analysis. Sigrity provides easy to follow workflows and wizards designed to guide you through the simulation setup and analysis process quickly and efficiently. Coupled with a comprehensive model library and management environment you have a quick repeatable path to analysis that can be leveraged throughout your organization.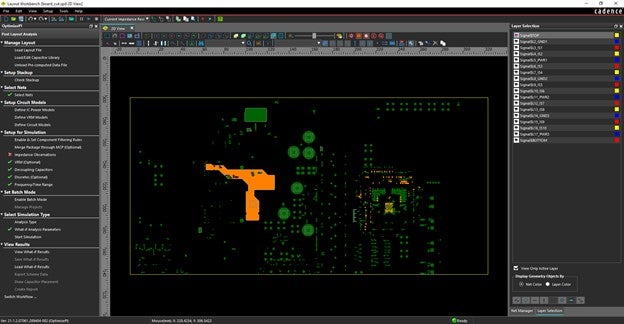 Pre & Post Layout Insights
Get to Actionable Insights Quickly - Pre & Post Layout
Along with reduced setup time, Sigrity boasts the fastest analysis engines on the market. Up tp 10x faster run-times than other leading engines, Sigrity is optimized to meet the challenges of todays complex analysis requirements. Full multi-threading threading support allows you to accelerate this speed-up even farther by leveraging your multi-core compute resources to go from run to results in no-time.
Hardware-Correlated Results
Hardware-Correlated Results
Analyze and verify with confidence knowing your results will have tight correlation to real-world hardware. Your analysis is only as good as the confidence in your results. Cadence rigorously tests Sigrity against their own hardware ensuring the correlation you need to sign-off with confidence.
Analyze in Your Environment Seamlessly
Analyze in Your Environment Seamlessly
Regardless of your CAD environment it is easy to bring your data into Sigrity for quick and accurate analysis. Simply drag and drop your design files on the unified canvas and start running workflows. Leverage the automated reporting engine to quickly generate and share insights from your analysis with colleagues drastically cutting down on reporting time.
ONE ENVIRONMENT. ENDLESS POSSIBILITIES.
Signal Integrity
Impedance | Coupling | Crosstalk
Noise | TDR/TDT
Power Integrity
IR Drop | Resonance | Impedance | Loop Inductance | Thermal
Thermal Analysis
Transient & Static Electrical
Thermal Co-Sim | FEA | CFD
EM Analysis
Model Extraction | Full 3D EM
S-Parameters
ESD
Virtual ESD Gun | TVS Analysis
EMI/EMC
Near Field | Far Field | SAR
Radiated Emissions | Cap Optimization
Channel Analysis
DDRx | USB | PCI-e | MIPI | HDMI
SATA | Serial | Parallel | AMI Modeling
Topology Exploration
SI | PI | Solution Sweeps
Requirements Definition
With deadlines shortening and technology becoming more advanced, the adoption of Sigrity technology for signal and power integrity analysis allows us to verify designs quickly and accurately," said Ted Larson, CEO - OLogic, Inc. "This is critical to ensure we can provide our customers with a reliable product promptly."
Not only can many designs be analyzed 10X faster with the same accuracy level, but the capability has also been extended to larger and more complex designs that previously could not be analyzed. This productivity builder is allowing us to cut weeks off our design cycles and expedite our product delivery."
"Our collaboration with Cadence has allowed both engineering teams to develop tools that can improve our joint customers' product creation process. The Sigrity aligns with our customers' needs to address serial link analysis challenges as early as possible," said Brian Reich, General Manager Performance Oscilloscopes, Tektronix. "Together we can help our joint customers reduce weeks from their design cycles as they prototype USB interfaces with the Sigrity solution and validate them in the lab with the Tektronix solutions."
THERE'S A WORKFLOW FOR THAT
The unique workflow-driven design environment and comprehensive simulation engines allow you to quickly access and perform the analysis needed to meet your design needs. As your analysis requirements increase, it is easy to add additional workflows all within the same common UI.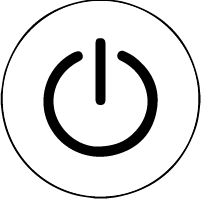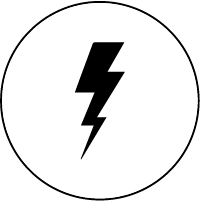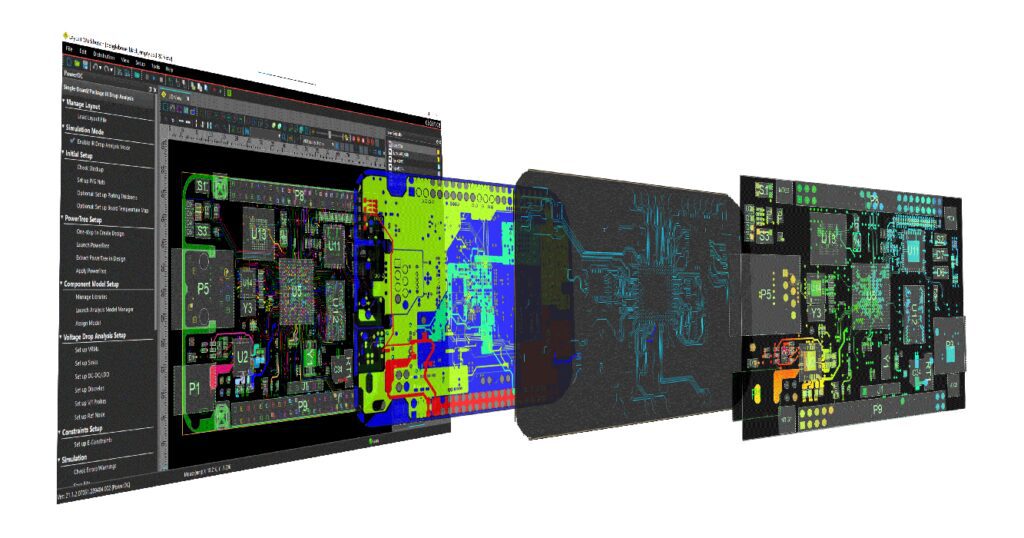 GET STARTED & SCALE EASILY
Getting started is oftentimes the hardest part of adopting new technology. Gain access to a powerful set of ready-to-go SI/PI/EMC workflows you can use right out of the box to quickly start your next-generation, electrically-aware design flow with the Sigrity Starter Pack. This pack is designed to get you operational with minimal setup so you can begin to identify and solve design issues early across the board quickly. Then, as your needs grow, easily scale up and add workflows to guarantee you always have the analysis capabilities needed for the task at hand.
AUTOMATED COMPLIANCE & REPORTING
Easily Communicate Your Results & Insights In Real-Time
For complex interfaces like DDR or PCI, manually reporting on all the data points needed to guarantee compliance is error-prone and can take hours to create. With Sigrity, the reports and documents needed to communicate with project stakeholders are just another output of your simulation and analysis activities. Documents are easily sharable and consumable in HTML format. Compliance reports are auto-configured based on the interface specifications, ensuring you are documenting all the key metrics needed for sign-off.
Automated SerDes Analysis
Ensuring your key serial interfaces operate as intended is not easy. Sigrity allows you to move to production with confidence  by providing a complete sign-off level design, analysis, and compliance environment for your critical serial links.
Key Capabilities
Wizard-driven workflows makes setup and analysis easy
10x performance to competitive solvers with no loss of accuracy
Built-in pass/fail compliance checking for major serial interfaces (PCIe, HDMI, SFP+, XAUI, SAS, SATA, USB, etc)
Best-in class vendor independent IBIS-AMI model support
Full channel analysis to concurrently identify crosstalk, CDR, SSO, and confirm BER over millions of bits
Achieve first-pass success for your DDR interfaces with Sigrity. Quickly model and analyze these complex interfaces with hardware-level accuracy at any stage of your design with the easy-to-use, Sigrity-guided workflows.
Key Capabilities
Wizard-driven workflows makes setup and analysis easy 
10x performance to competitive solvers with no loss of accuracy
Power-Aware analysis included to ensure hardware level accuracy 
Support for all generations of DDR including the latest DDR5
Account for ISI, Crosstalk, Reflections, and SSN
IBIS-AMI model support to incorporate equalization and other and other controller learning and adjustment capabilties
Take the Sigrity Challenge
The Results Speak for Themselves. Want to see how Sigrity can help you? Take the Sigrity Challenge to get a complimentary design review and let us show you the results on one of your designs.
See how the best-in-class Sigrity and Allegro engines combine to enable true electrically-aware design from start to finish with Sigrity Aurora.
Learn more about the electromagnetic, electronics, thermal, and electromechanical simulation solutions Cadence has to offer.